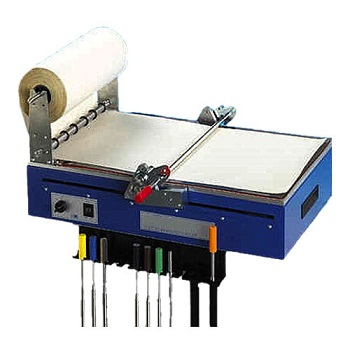 With the development of science and technology, the coating task has been improved significantly. This technology is useful for various applications such as inks, coatings, and flexible materials such as textiles, leather, card, and paper. The k control bar coater is useful for the application of coatings and inks into flexible material.
The coating thickness that is applied is controlled by the area of the groove between the wires and coils. As a result, a smooth, uniform, thick material is produced. This bar coater is made out of stainless steel that is useful to apply paint coatings, varnish, and ink. For multilayer coatings, this technology is ideal.
Working Pattern of K Controller Coater
The unique working process of the bar coater is as follows-
1. Sample preparation using wired bars- sample preparation of paints, inks, and other surface coatings into substrates is an essential operational factor for any laboratory working materials.
2. Quality control of current products is essential for the k control bar coater. Research and development task is necessary for the new alternative's materials.
3. Wire bar coating is suitable for materials that are available in a vast range of coating. The coating thickness with standard close wound wire bars is about 4 to 160 microns. The actual deposit from a wound bar will depend on the substrate's absorbency and the unique flow characteristic of different coating materials.
Features of K Control Coater
The unique features of the k control bar coater are as follows-
1. It controls the speed and pressure to ensure the repeatable result of the bar coater.Thus, it is unique.
2. It can provide multiple coating in one operation for different purposes for various applications.
3. The standard coating speed stands between 2 to 15m/min.authentick control bar coater exporters always provide the standard quality bar coater.
4. The k control coater is useful for paints, adhesive, liquids printing inks, and many other surfaces coating for quality control and presentation purposes.
Process of Choosing the Control Bar Coater Supplier
K control coater is useful to generate quick, reproducible samples of coatings, precise acrylics, liquid dyes, and pigments. The k control coater has enormous usefulness for any protective coating. An authentic supplier can ensure quality assurance, computerised colour comparison data, and quality assurance.
These are the unique components for a company to success in this competitive world.Authentic k control bar coater manufacturer in Indiaprovides the best quality coating sealants, paints, liquid printing inks, sealants, and many other valuable materials. It has a unique and adjustable coating speed. They always use the proper testing method to ensure the best quality measurement. It should be performed according to the customers' desires. Quality control is one of the essential parts of the control bar coater.
From the above information, one can understand the usefulness of choosing the best quality k control bar coater suppliers that can provide different types of bar coater at an affordable price. Furthermore, these bar coaters are helpful for multiple applications.